OVERHEAD RUNNING RAILS
Single and double track rail fittings in stainless steel built to suit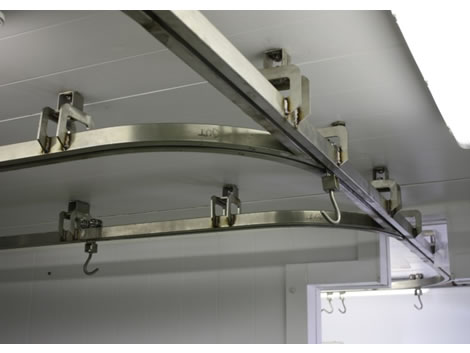 Effortless movement between prep area and chiller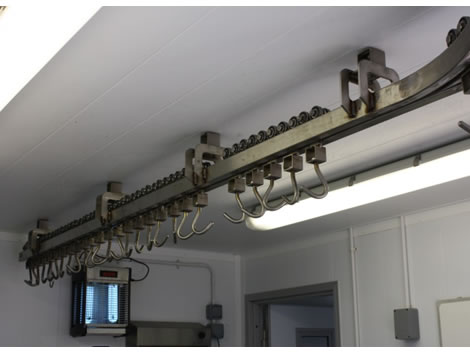 Layout to suit requirements price quoted with specification required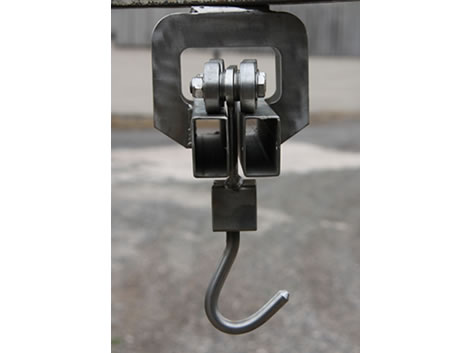 trolleys for twin track rails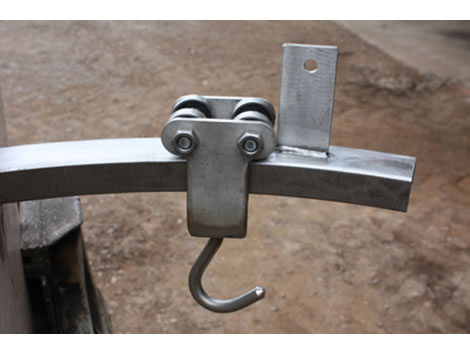 trolleys for single track rails
both types with stainless sealed ball bearings  £90-00 each
OVERHEAD RUNNING RAILS, OUR LOW HEADROOM TYPE
A single rail system designed  for use in low headroom larders such as units built in portacabin and shipping container situations
Track can be bolted tight up under the ceiling min radius of bend 500mm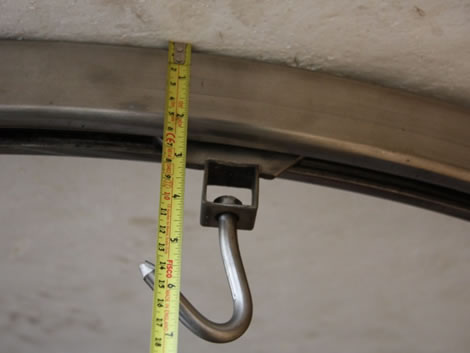 Distance from ceiling to bottom of swivel hook only 140mm (7 ins)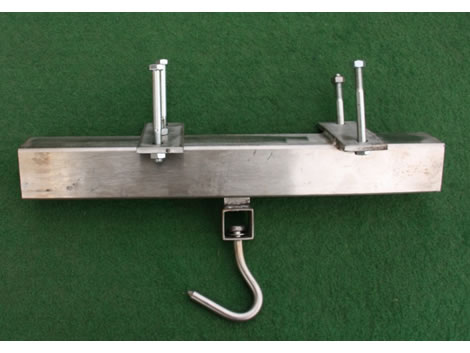 Can be bolted along the top surface with 8 mm bolts or through lugs welded to the top surface to accommodate longer bolts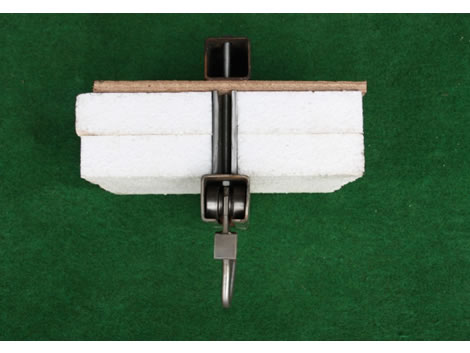 Used with spacers in the ceiling insulation to prevent crushing in the chiller areas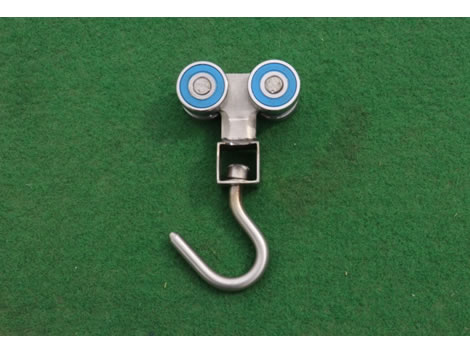 All stainless 4 bearing trolleys with swivel hook and sealed stainless ball bearings
£65.00 each plus carriage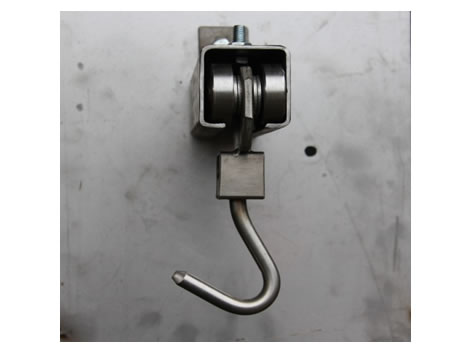 Bearings fit inside track to reduce total height of track
LOW HEADROOM RUNNING RAILS
A design very suited to low headroom larders.  A single rail system developed to make installation very simple and taking less headroom than systems with rollers on top of the tracking.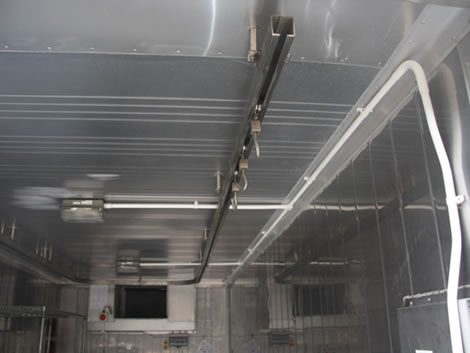 A rail in a stainless steel lined shipping container
Straight runs max stock length 6 metres through transport can limit length to 2 metres but with suitable junctions to make up the length needed.
£38.00 per metre c/w lugs welded on for fitting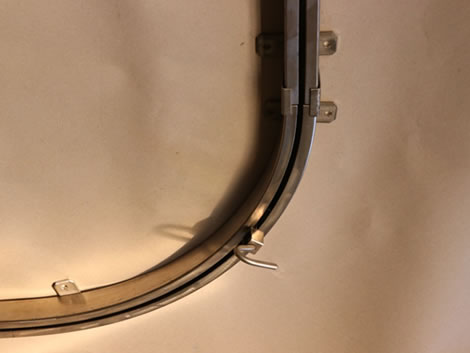 Bends min radius 500 mm
With lugs welded on £160.00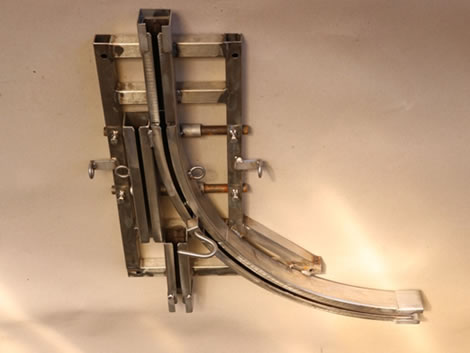 Junctions L/H or R/H cord operated to change tracks
£320.00 each with lugs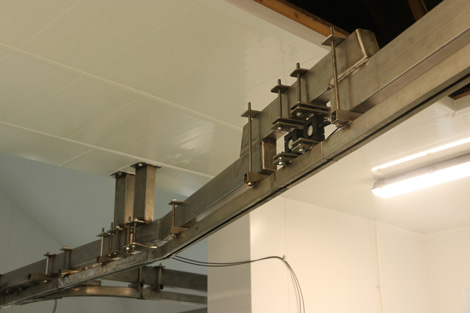 a strain gauge incorporated into the rail system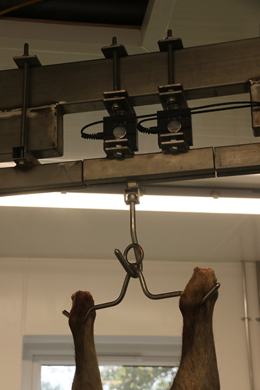 the strain gauge set to register weight in kg when the carcase pauses on that section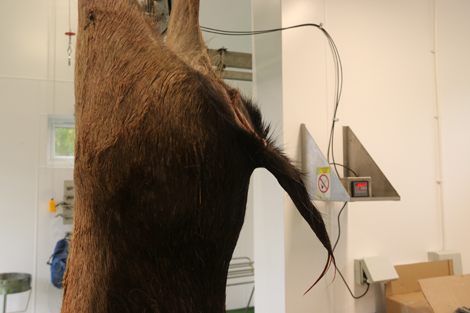 the readout from the strain gauges can be located remotely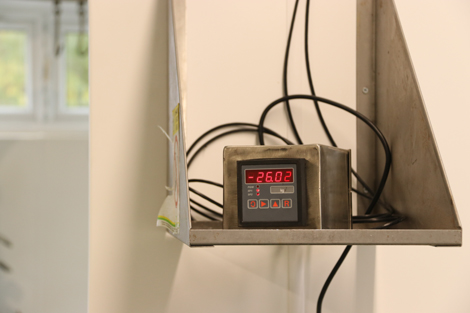 The digital readout from the strain gauges can be set to read the weight  anywhere convenient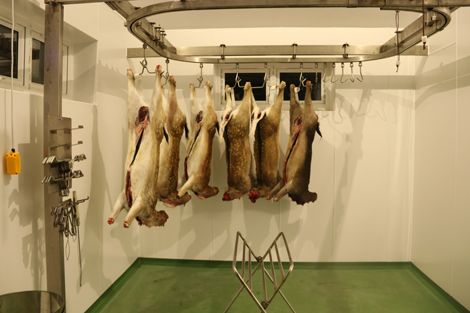 low headroom rails high enough for red deer in preparation/skinning area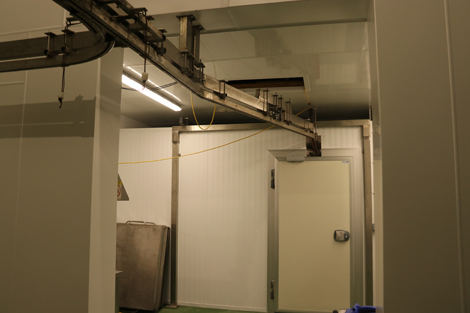 rails to bring carcases from  prep area to chiller passing over weighing module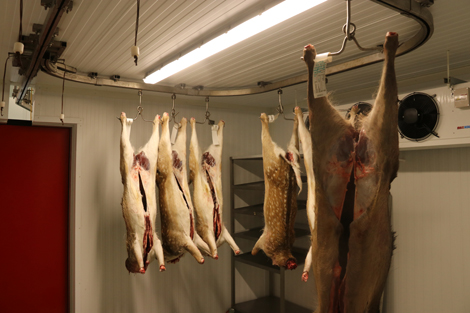 low headroom rails high enough for red deer in chiller area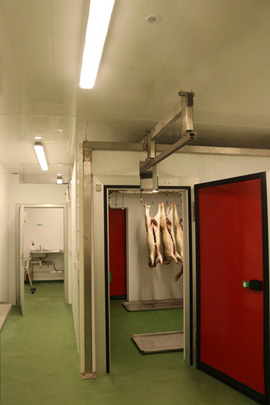 rails to bring carcases from chiller to cutting area with no heavy lifting